In My Mailbox was start by wonderful Story Siren. In My Mailbox is where you can tell your readers what you got in the mail that week. Well, the important things like books, that is.

What is the contents of my mailbox this week you ask?

Well... I had a bit of a slow week this week.



Memoirs of a Fortune Teller by Gary Turcotte
(October 19, 2009)


Mary Ann was a traveling fortune teller. She knew everyone's future, but her own. She left this journal with many disturbing readings.
This sounds pretty good, not completely sure of what it's about. But hopefully I won't be disappointed.
Vigilante Witch Hunter
by Gary Turcotte
(January 21, 2009)

Melissa married the man of her dreams. She didn't know that he was a fortune teller. His secret life brought many dark hearted people into Melissa's future. She wondered if her soul mate had sold his soul to the devil. Sometimes a buried treasure is best left alone.
The cover looks pretty cool, sounds okay. Hopefully it is really good!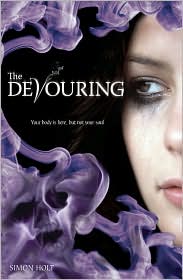 The Devouring
by Simon Holt
(September 1, 2008)
When dark creep in and eats the light,
Bury your fears on Sorry Night.
For in the winter's blackest hours
Comes the feasting of the Vours.
No one can see it, the life they stole,
Your body's here but not your soul...
I have been waiting to read this for a while and was extremely happy to receive it in the mail. My dad brought me a package that said Hachette on it and I freaked out. But wasn't entirely sure what it was, so I ripped it open, of course, and hugged the book when I saw it. I love the cover and the summary sounds a bit creepy. Can't wait to read this!
So what did

you

get in the mail this week?